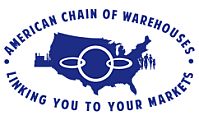 LANSDALE, PA—(Marketwired – Aug 12, 2014) – The American Chain of Warehouses, Inc. has named Bruce Montgomery as Executive Vice President (EVP) of the non–profit organization, effective immediately. 
Mr. Montgomery is well known throughout the Logistics industry, with more than 25 years' experience in supply chain practice, 3PL Business Development and recruiting new talent to the field. He is particularly well versed in the requirements and solutions responsive to fast moving Consumer Packaged Goods (CPG) companies, having begun his career with nearly 20 years at Nabisco. 
"American Chain of Warehouses helps companies reduce fixed costs and increase flexibility with scalable warehousing and distribution solutions. We are very proud to bring aboard a leader with as deep a market understanding and strong an ability to craft responsive solutions, as Bruce Montgomery," said Paul Delp, president of American Chain of Warehouses, Inc. "Our companies look forward to his skillful representation of their capabilities to his impressive professional network." 
Mr. Montgomery, a graduate of the University of North Texas, and Logistics Management Development Program at Michigan State University, is based in Dallas, TX, where he is a member of the Warehousing & Educational Research Council (WERC) and Council of Supply Chain Management Professionals (CSCMP). 
About American Chain of Warehouses, Inc.
Founded in 1911, the American Chain of Warehouses is a non–profit organization that matches companies — at no cost to them — to the right warehousing and logistics service provider in the US and Canada. Together, the privately owned and operated third party logistics providers (3PLs) provide more than 12 million square feet of warehouse space throughout North America. From Contract Packaging and Food Grade Warehousing to Just In Time (JIT) Vendor Managed Inventory (VMI) programs, all 18 American Chain warehouse companies deploy the latest Warehouse Management Systems and technologies for efficient management of customer inventories, with personalized attention to the needs of individual companies across a wide array of industry sectors. For more, www.acwi.org.