SAUSALITO, CA—(Marketwired – Dec 3, 2014) – As Weezy prepares to release his eleventh album, Carter V, he's seen drinking from the Fred Water Flask and remixing Aaron "Jaws" Homoki's techno beat found in Fred Water's Hilarious Kickstarter video. At just seven days into the 40–day campaign, the company surpassed its goal.
Checkout Wayne's cameo at the end of the video here: http://kck.st/11Lywni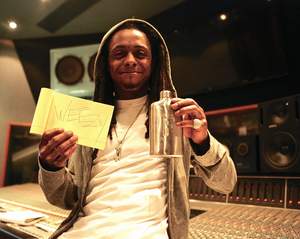 "Fred Water is dope, plain and simple." – Lil Wayne
The man with the most songs on the Billboard Hot 100 likes skateboarding, and he joined skateboarders Tony Hawk, Aaron "Jaws" Homoki and Chris Joslin on the Fred Water Flask Kickstarter to back it. The Fred Water Flask was made to slide into pockets leaving people's hands free when on the go. The new pocket–friendly Fred Water Flask is only available for preorder at Kickstarter.com.
To download high–res images, visit: http://we.tl/jxqEKHP0M4
Connect with Fred here:
Kickstarter: http://kck.st/11Lywni
The site: fredwater.com
Facebook: Facebook.com/fredwater
Twitter and Instagram: @fredwater
Fred Water Kickstarter Video:
The Fred Water Flask Kickstarter video creative director and writer is Ariel Broggi, and it stars Rhys Darby and Andrée Vermeulen with cameos by Tony Hawk, Aaron "Jaws" Homoki, Chris Joslin, Lil Wayne, Annie Boulanger, Joe Sexton, Scott Stevens, Megan Neuringer, Leonard Robinson, Lance Krall, Scott Krinsky and Eliot Schwartz.
About Fred Water:
Founded by two guys in Brooklyn, Fred Water is on a mission to reverse America's staggering obesity trend by helping consumers drink more water and less sugar. The company creates pocket–friendly, refillable flasks designed to make water more convenient to carry and way cooler to drink. Whether selecting Fred Water filled, empty or the new stainless, Fred backs drinking water — even from free sources — because promoting water over sugary beverages is sustainable. The direction the industry is headed today is not.
Fred is sold in retailers nationally and online via FREDWATER.COM.
Hydrate & Conquer. Refill & Respect.
Image Available: http://www2.marketwire.com/mw/frame_mw?attachid=2731241